Did you read the rules?: Quite so
Is your character an actual anime/movie character? or an original character? Original
Did you looked if this character was free?: I created him
Name: Loren "Blackblade" Haze
Age: 35
Gender: Male
Height: 6'3"
Weight: 210 lbs
Species: Saiyan/Kaioshin
Class: Shopkeeper/Hunter
Appearance: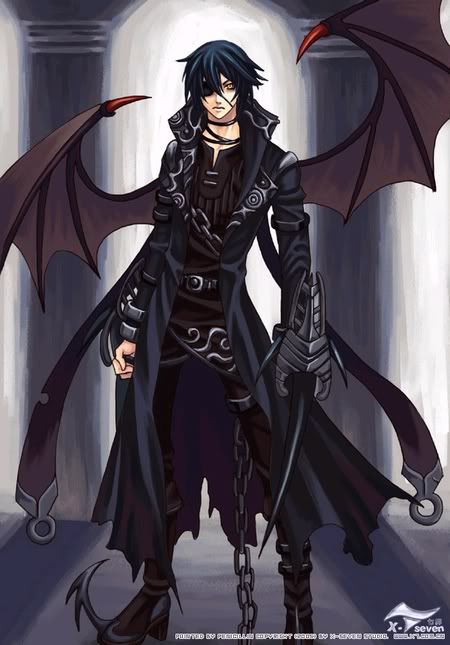 Personality: Loren is usually seen as cold and distant. He likes training by himself, but occasionally will spar with someone else when he feels the need to be challenged. He has a very strong code of honor that he never strays from. He is a very fierce fighter, as is true of all Saiyans, but his Kaioshin nature works to balance his driving need to fight all the time. He is a hard worker and never flinches from helping a friend in need, even if it means his own death. He also tends to favor physical combat over energy, and thus liberally uses his martial arts skill
Attacks: Energy Sword: User draws his Ki into his blade, charging it with energy, causing the blade to become lighter and stronger, enabling Loren to swing it faster and harder than usual.
Kaioshin Blast: A huge blast that draws on the inherent powers of the Kai. Standard 6x6 attack radius.
Abilty's: Taunt: An attempt to cause an opponent to concentrate their attacks on Loren instead of the previous target.
Items/Weapons: 2 x Katar, Broadsword, Battle Axe
Biography: Loren's parents, whom he never knew, just escaped the destruction of Planet Vegeta. Sadly, though, their craft was damaged in the shock wave, and in the resulting seconds, Loren's father forced his wife to get into a small escape pod. The pod was jettisoned mere seconds before the ship finally fell apart. It is assumed that Loren's father died in the explosion.
Obviously, the escape pod floated in space for a time, but was eventually noticed by North Supreme Kai. North Kaioshin himself came and rescued her from drifting aimlessly. Eventually, the two fell in love and his mother wound up conceiving Loren.
The evil wizard Bibidi had already revived Majin Buu at this point. North Kaioshin sensed the great power coming from Majin Buu and used his powers to send Loren's mother to earth. North Kaioshin was killed shortly afterwards.
Loren's mother died during childbirth. He was raised by a small group of tight-knit people far to the south of East City. He was taught the ways of combat by these few, learning the way of the sword, staff and spear. He quickly rose in rank due to his Saiyan heritage. Soon after his fifteenth birthday, he was declared the strongest in the village. He soon bids the village farewell as he goes to participate in the 21st Tenkaichi Budoukai. However, his dreams were soon dashed as just after the second match of prequalifying round of the tournament, his opponent broke Rule #4. His opponent attacked using a technique called "Cat Scratch." Ironically enough, his opponent was a cat. The attack left him without the use of his right eye. Disqualified from the tournament, Loren returned to the village to recover.
Twenty years have passed. During that time, Loren favored the use of an eye patch over just have a scar there to mar his skin. His village was also destroyed by a stray energy blast by one of the Z Fighters while they fought. Though he holds no ill will towards them, he prefers to stay out of their way. He once had a special weapon, as shown in the portrait of himself drawn by one of West City's most distinguished artists, but sadly, the weapon was at the village when it was destroyed. He took on a more gothic and dark look to reflect his mood of late. Also, during this time (Loren prefers not to think about it), Loren had his tail cut off, thus losing his natural ability as a Saiyan. Being a Kaioshin, he is able to sense things others can't, and sometimes it drives him insane when he senses great evil but can do nothing about it. He has continued to devote himself to training, and has recently placed an order for a very nice katana.
Other: Loren is disabled, having the use of only one eye, but sometimes his Kai heritage helps to make up for that by having heightened senses and the ability to detect powers around him.